cartav
Maj Gen







Number of posts

: 784


Age

: 87


Localisation

: s. yorks


Cap Badge

: RA (ns) RA, R.Sigs, RE ( TAVR)


Places Served

: Oswestry, Tonfanau, Woolwich, Osnabruck, MT School Bordon, Bulford, Manorbier, Hameln, R.Sigs Blandford, RSME Chattenden, Western Highlands.


Registration date :

2011-04-26


Subject: Cock ups 26/7/2011, 22:54

---

Confession time for the general enjoyment of others..........

We'd been out of camp on a four day scheme, it was the evening of the day before return to comfort was scheduled. Three sqns. were scattered 20 km from Hameln, RHQ was sited somewhat nearer the bridging camp there than we were..

Our Sqn. OC wanted to work a fast one, get back home first before the washing down point was bunged up. He called for his sigs expert. " I want to move nearer home without telling regt......." Didn't know OCs could be so devious. "......I want a location beyond RHQ where we can maintain comms, just as though we are still here. No time for a recce, Can you find one off the map ?". Tall order in a strange part of the world, but sigs expert had a go, looked for somewhere high up, checked if there were any pylons around which might bring down a signal, and kept his fingers crossed. "Maybe", he said. "We'll have to leave a station back here to cover our tracks when we are moving. If the worst happens we can drop a relay off somewhere......."

We moved out in the early hours, leapfrogged over RHQ and met up with the sqn. WO II who had been sent ahead to recce the area chosen from the map.
" Good spot ! " he said. "Regt are coming in loud and clear, we can pull off the road and harbour under the trees....". It was done, six Land Rovers & eight 4- tonners lumbered over the flat bits of grass & hid in the adjacent wooded areas. Giggles all round, it had worked.

The guard who was roaming the area as dawn streaked the eastern skyline was the first to notice. He roused the guard commander, then via sqn WO II, the intelligence reached the OC. Within fifteen minutes, the whole sqn crashed out, making fast tracks back to where they had been the day before.

It may still be a sensitive issue, retribution may still be being sought, for the sqn had ploughed up two greens on what must have been the only golf course for miles around. And that wasn't a good thing tactically, for those wheel tracks would have given their location away if any enemy recce aircraft had flown over.


623TACP
Cpl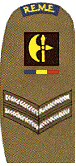 Number of posts

: 12


Age

: 53


Localisation

: North West


Cap Badge

: R.Signals


Places Served

: Falklands, Cyprus (UN), Belize, The Gambia, BAOR, York (UK), Air Support Brize Norton and TCW


Registration date :

2012-10-22


Subject: Re: Cock ups 22/10/2012, 16:41

---

I think the subject Cock ups in an Army chat room is like asking for the site to be crashed. Just too many to mention, where do you start lol
pete26
Capt







Number of posts

: 209


Cap Badge

: R.E.


Places Served

: Farnborough, Hohne, Ulster, Berchtesgaden,Chatham..


Registration date :

2012-04-29


Subject: Re: Cock ups 26/10/2012, 23:57

---

Amongst many others, our personal best was to short circuit and block one of the main railway lines between Germany and Holland.

We were being led to an area prior to our turn for the antars to pick up our bridgelayers and take us back to Hohne.

They took us to these railway sidings, forgetting our radio aerials stood over 6ft above our bridges that we carried.

The aerails hit the overhead railway power lines. Totally fused up the swr boxes and melted the C42s.

Lucky to be alive really I suppose.

We saw it all on German TV on that evenings news. We did laugh.