brian beckett
SSgt/CSgt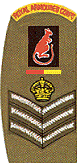 Number of posts

: 47


Age

: 78


Cap Badge

: rasc


Places Served

: Tower of London(initially in Royal Fusiliers) Aldershot, Sennelager & RAF Bruggen


Registration date :

2009-02-04


Subject: Memories of RAF Bruggen - 1958/59 11/7/2009, 14:09

---

I served my National Service as a clerk in the Royal Army Service Corps and was posted in May 1958 to the 471 Ground Liaison Section at RAF Bruggen, located on the German/Netherlands border near the Dutch town of Roermond.  Apart from the CO, a major designated the Ground Liaison Officer, the unit consisted of only four servicemen of corporal and below - two clerks & two drivers.  It had an array of vehicles consisting of two Austin Champs (jeep), a motorbike, a Bedford lorry with field office trailer, and a bicycle.  It also had its own stock of small arms, held in the airfield's armoury.   Additionally, there was a Belgian Army liaison section attached, comprising a lieutenant and two servicemen. Assistance was received from the RAF's admin office in respect of pay & leave movements and from a couple of nearby army bases for vehicle servicing & supplies. But the unit was independent and operated without the RAF or Rhine Army taking any interest in its 'domestic' affairs. Discipline was at a minimum, with no parades, inspections, or menial tasks to contend with.

The offices were located in the Wing Operations Centre, in which we worked and mixed freely with RAF personnel of all ranks. Attached to the base's Intelligence Section the unit's role was army/air liaison, its principle task being the briefing and debriefing of aircrews whenever they flew operations in support of ground forces.  We were never overworked.   I was even sent on a 'RA' course to learn how to operate and service a 16mm cine projector as we were often called upon to show training films to aircrew when bad weather stopped flying.     
 
There was another army presence on the base, but which had no connection to us. It was a substantial unit of the Royal Signals that functioned with the usual army 'agenda', supervised by a sergeant major!  

Bruggen had been open about six years at the time of my arrival.  Its well appointed accommodation blocks and its catering were far superior to anything I had previously experienced with the army.  Night duty suppers were invariably steak sandwiches made with freshly baked bread!

Three squadrons were based at Bruggen. Two were equipped with Canberra bombers, 213 with B6s and 80 with PR7s.   The third squadron, 87, was equipped with Javelin F1 fighters.   During my time 87 Sqdn. lost two Javelins, one close to the airfield and another over the Dutch Coast at Bergen Op Zoom.  There was a drama when a Canberra of 80 Sqdn. whilst on local training could not lower part of its undercarriage.    This incident was memorable because a detachment of army personnel from the Green Howards Regiment was on an 'educational visit' to the airfield, arranged by our CO, and one of it's members was on board the aircraft taking a joy ride   The aircraft circled for a couple of hours using fuel before making a successful emergency landing.   

There were frequent visits by aircraft from other NATO air forces, but the most notable was the periodic arrival of a couple of RF84Fs of the Danish Air Force from their base at Karup.  Referred to as 'liquor runs' by Air Traffic staff, the cameras had been removed from the aircraft to allow space for the cases of duty free spirits that their crews had come to purchase from the Officers' Mess.

Around the the time of my arrival at Bruggen the Duke of Edinburgh made a visit.  The Daily Mail reported the occasion as follows: 'The RAF sealed off one of it's top secret bases in Germany so that Prince Philip could have a close private look at some of Britain's A-bombers'.  The intimation being that nuclear armed aircraft were based at the airfield, but there were never any during my time, one had been flown in especially.   Further on the article continues: 'The base is sensitive where strong security precautions are always in force'.   That was not quite true either, security wasn't as tight in some areas as it should have been with the large German civilian workforce employed on the base, which was a continual cause for concern.       

'Practice Alerts' were the unwanted surprises.   They invariably came in the middle of a night and required all personnel to report to their place of work immediately, whilst the aircraft would take off on pre-designated missions.   Several NATO exercises were held during my time but one in particular, code named 'Top Weight', involved a large amount of preparation and target plotting, and which required one of the drivers to take me to the Command Map Store in Bielefeld to collect many of the maps needed.  Whilst there our Champ developed a broken a half shaft, resulting in a hastily arranged uncomfortable overnight stay with the REME unit that repaired it.   Soon after the exercise commenced however the referees declared Bruggen had been destroyed in a nuclear attack.  A salutary reminder of our 'raison d'etre'.  I'm sure none of us ever seriously considered that possibility for real; our predominant thoughts were always that of making it through two wasted years with a minimum of fuss and bother and returning to civilian life.  

We were extremely fortunate in having an easy going major for a CO.   He was from the Kings (Liverpool) Regiment and previously when with his battalion was possibly quite 'regimental'.   But the comfort of being in charge of a small autonomous unit within the relatively relaxed atmosphere of the RAF had mellowed him.    So long as we kept ourselves tidy, did what was expected, and caused no problems, he was happy to leave us to our own devices, At times he was remarkably paternal towards us, and we were often called upon to spend an evening at his home to look after his young daughter whilst he and his wife were out.  Furthermore, he allowed us the occasional use of a Champ to visit Roermond to get a decent haircut or for shopping.  During the major's absences the Belgian lieutenant was nominally in charge but he happily let us maintain the Section's routine without supervision. At one stage the base's administration wanted to move us and the Belgians out of the accommodation block in which we were billeted with Flying Wing air force personnel, and into the one used exclusively by the Royal Signals.   We viewed with extreme horror the idea of the Royal Signals, with its sergeant major, having a degree of authority over us.  But as CO of a separate unit the major had no intention of allowing that to happen and using influence with his pals in the Officers' Mess quickly got the plan cancelled. The cosy familiarity that existed within the unit meant we tended to forget how important a major was until accompanying him on visits to other army establishments and seeing how all ranks jumped in his presence

The base had a Malcolm Club where unlike the NAAFI, 'all ranks' were permitted to visit and mix.  For entertainment, there was the Astra cinema.  UK newspapers arrived around midday and could be read in the WVS lounge.  A television had also been installed in the WVS lounge, this was popular for sporting events and English dialogue films when shown on  Netherlands TV.   

Once, the NAAFI manager complained to the station adjutant about the amount of cutlery that was continually disappearing from the NAAFI canteen; the obvious place to go for anyone needing to replace a lost 'eating iron' (knife, fork, or spoon).  In response the adjutant instructed the station police one lunchtime to check the cutlery of everybody entering the dining hall, which resulted in a considerable amount of the missing items being recovered and temporary inconvenience to the culprits, one of whom being me!
 
Having a beer off the base involved nearly a 15 minute walk to the bar opposite the main gate, or a further 20 minutes to the bars in Elmpt, the nearest village.  Occasionally it was possible to get a lift to a popular hostellerie in Bracht, which was run by three sisters and commonly referred to as the 'Six Tits'.

Those National Servicemen with girlfriends back home were in constant dread of receiving a Dear John.   A highlight of the week for many of them was listening to 'Two Way Family Favourites' on the radio at Sunday lunchtimes.   Some tunes were requested so frequently on this and similar programmes that even now whenever hearing them I'm reminded of those days.  

Being located close to Holland and Belgium we were ideally situated for making short visits to Amsterdam and Brussels, helped by much reduced train fares offered to NATO military personnel.   Anyone taking leave locally, instead of travelling home to the UK by way of the free military rail/sea service, was entitled to claim a rail warrant covering a distance of up to fifty miles beyond a West German border,

Everyone based in Germany had the opportunity to purchase luxury items such as cameras & watches at much lower than UK prices, but which were liable, in those days, for duty payment when brought back to this country. Consequently all passengers disembarking from the military ships at Harwich were subjected to a rigorous ordeal by H.M Customs officers.    
                          
Unlike the vast majority of National Servicemen in BAOR, I never minded returning from leave. I was a corporal at the time of demob and was 'almost' sorry when it arrived.   I was even invited by the major and his wife for a farewell drink!   My job had been interesting, I had learnt to drive, had flown in a Canberra, and had made a lot of friends.  Life had been sweet. A fact reinforced during my demob journey back to the UK when I met a few members from the RASC draft with whom I had traveled out to Germany nineteen months previous and heard about the aggravations they had experienced.