JimP
LCpl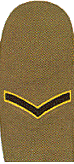 Number of posts

: 5


Cap Badge

: R Sigs


Places Served

: Dortmund, Lippstadt, Herford


Registration date :

2015-04-07

Subject: 2 weeks in Corsica 9/4/2015, 22:16

---

One of our adventure training jaunts was to Corsica. We had to postpone several times until Corsican Liberationists quietened down.
Everywhere we went we could see evidence they were not a happy lot.
Burned out cars driven over cliffs, bullet holes in just about every road sign. We even met one bloke riding a donkey, sheepskin waistcoat and rifle on his back. I kid you not - thought it was Anthony Quinn lol.

Ajaccio was different. Big limos and dark glasses smelled mafiosa.

Good trip though.
Anyone from HQ 24 Missile on here who remembers it? 1974.