brian beckett
SSgt/CSgt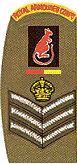 Number of posts

: 55


Age

: 83


Cap Badge

: rasc


Places Served

: Tower of London(initially in Royal Fusiliers) Aldershot, Sennelager & RAF Bruggen


Registration date :

2009-02-04

Subject: National Servicemens' Trade Training Selection 17/2/2021, 14:57

---

It was quickly learned by most National Service recruits that whatever trade/unit they requested at time of
callup it was a waste of time.  With few exceptions no matter how skilled they might have been they were
likely to be placed anywhere the army needed to make up numbers.   Apparently one of those exceptions
applied to recruits who had been employed by Thomas Cook - Travel Agents at time of callup.   They could
request a posting to a Movements unit which was guaranteed to be honoured.   Potentially a cushy number.
Thomas Cook and the War Office had signed a contract soon after the First World War that stipulated in the
event of the re-introduction of conscription all Company staff could automatically be assigned to Movements'
units and work along side regular army personnel of the Royal Engineers, who were responsible for such matters.
I have no idea how well this worked out.   I was employed in the travel industry and knew a couple of people
who had worked for Thomas Cook prior to doing National Service and am positive they were never aware of this
arrangement.   Thomas Cook in those days was a vast and complex organisation and very different to when
it ceased trading in 2019, and so possibly it depended on how well this information was filtered down
to staff liable for callup.

It seems this arrangement also applied to the RAF.