dagian
Sgt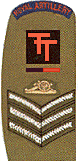 Number of posts

: 35


Age

: 70


Localisation

: Germany


Cap Badge

: RA


Places Served

: UK (Nuneaton/Barnard Castle/Larkhill/Bulford), Germany (Gutersloh/Lubbecke).Then worked as Civvy for Army.


Registration date :

2011-06-18


Subject: Mansergh Bks - History 18/6/2011, 22:39

---

Mansergh Barracks was taken over from a well-known Gutersloh Family (Osthus) in 1935 and on 1 November 1936 was occupied by the Luftnachrichten-Regiments 6 (Luftwaffe Signals). It was used as a base for training Signals Operators throughout the Luftwaffe - this was in part due to it's close proximity to the Airfield (subsequently RAF Gutersloh/PRB), which was built at around the same time. It was known variously as Nachrichten Kaserne or Sundernkaserne (still popular names for the older Locals).
Until the 1970s there was still a German presence in the Barracks, the last being a Fernmelde Bataillion (mostly conscripts). At that time they occupied 2 buildings - the next building to the current RHQ was their Living Quarters and the Working/Training & Mess Accommodation was in the Block immediately behind the Guardroom. (They used to share Guard Duties with the Gunners).
It was a popular myth that underground tunnels exist, but this has never been proven. I have over the years been in all the Cellars. The closest is perhaps that, in what is now RHQ, the Ground Floor Offices were all wood-panelled with discreet doors inbuilt. Having worked in the building (and spent many 24 hours duties) I know that most were cupboards and washrooms except one which led directly to the Cellar (Bomb Shelter).
Apologies if some of this is already recorded.
FrankBaldwin
Private Number of posts

: 1


Registration date :

2015-05-17


Subject: Re: Mansergh Bks - History 17/5/2015, 22:36

---

Tim Ashton is I am sure correct. My tale is how the story was told by 1980. I was put right by Lady M who told me that the Guard mounting involved a local dancer.

Does anyone know doe certain what date the barracks was named "Mansergh" Was this after a visit by the man as Master Gunner to 22 Regt?
Goldmohur
WOII






Number of posts

: 93


Age

: 78


Localisation

: Doncaster


Cap Badge

: RAOC


Places Served

: Gutersloh, Duisburg, Bracht, Rheindahlen. Also Non BAOR, Blackdown, Corsham. Shoeburyness, Ty Croes, Aden, Bicester.


Registration date :

2007-03-10


Subject: Re: Mansergh Bks - History 18/5/2015, 13:46

---

36 Hy AD Regt RA arrived there in Sep 61 taking over from the RAF.

I can remember waking up on my first morning to the sound of German servicemen marching and singing in the German manner.

22 Lt AD Regt RA took over the barracks from us later in 1961.

Mansergh was a Master Gunner I believe. In Sep 61 I think the barracks did not have a formal name. Compared with the slums we had inhabited at Horseshoe Barracks Shoeburyness, the Sundern accommodation was excellent.
Pborn4
Maj





Number of posts

: 281


Age

: 72


Localisation

: Between Hannover and Herford, off all main routes


Cap Badge

: Not even a reservist now - have been Pborn3


Places Served

: Oswestry 1965, Paderborn to 1971, NE Dist, Munsterlager from 1974, Sennelager (1976 to 2012)


Registration date :

2016-12-16


Pborn4
Maj





Number of posts

: 281


Age

: 72


Localisation

: Between Hannover and Herford, off all main routes


Cap Badge

: Not even a reservist now - have been Pborn3


Places Served

: Oswestry 1965, Paderborn to 1971, NE Dist, Munsterlager from 1974, Sennelager (1976 to 2012)


Registration date :

2016-12-16


Sponsored content

Subject: Re: Mansergh Bks - History

---