wozcav
LCpl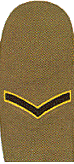 Number of posts

: 9


Localisation

: North Yorkshire


Cap Badge

: RAF


Places Served

: RAF: Binbrook/Marham/LUQA/Bawtry/Waddington/JEVER 2TAF/WILDENRATH RAFG/Patrington/Staxton Wold/Bempton


Registration date :

2011-03-17

Subject: TECH-BLOCK: JEVER 1960 17/3/2011, 15:55

---

Served Jever 1960-1961 pre GAF and looking for photos of the red-marbled door carvings in Tech-Block. My room on top floor had 'FLAK-BATTERIE' designation with 'ACK-ACK Unit at Guns on Right & Left'. Any memories/visuals including 'XMAS-BARS' Lads please? Grateful!

PS: 'JEVER STEAM LAUNDRY' is great Site for 'JEVERITES' with huge ongoing Archives inc. Photo/Vids!