Den Roberts
Private Number of posts

: 3


Age

: 86


Cap Badge

: REME


Places Served

: Blandford, Norton Fitzwarren, Wrexham Barracks Mulheim, Berlin


Registration date :

2015-12-27

Subject: Reme LAD 114 Coy RASC 25/10/2017, 17:24

---

Are there any ex- REME members who served at the LAD 114 Coy RASC Mulheim. I was there from April 1959 till November 1960



Last edited by Den Roberts on 25/10/2017, 17:26; edited 1 time in total (Reason for editing : Craftsman not private)
Den Roberts
Private Number of posts

: 3


Age

: 86


Cap Badge

: REME


Places Served

: Blandford, Norton Fitzwarren, Wrexham Barracks Mulheim, Berlin


Registration date :

2015-12-27

Subject: Re: Reme LAD 114 Coy RASC 26/10/2017, 20:15

---

Enlisted 20th November 1958 for my 2 years National Service (would not have missed it for the world a couple of great years). Trained at Blandford No 1 Trg. Bn 'B' Company No 8 Platoon (I think I am correct in saying that we were the last platoon to train there) but strangely we didn't have a passing out parade.
From there it was to 8 Trade Trg Bn at Norton Fitzwarren for an 8 week course to be a VM. The nearest local hostelry to the camp was a cider house at Bishop Lydeard which was my initiation to cloudy scrumpy, the landlord would only serve us with halves. A few diversions into the ditch on the way back often ensued.
Then after a couple of short visits to Arborfield and Duisberg I was posted to the LAD at 114 Coy RASC Wrexham Barracks at Mulheim on the Rhur.

When I arrived I was quickly told that I had done well being posted to 114 LAD as 113 LAD had to do guard duties. This being that our LAD did Duty Recovery for a large area and no guard duties were involved. This was an excellent camp to be at the RASC here were Heavy Transport companies and this necessitated occasional trips to Herentals in Belgium and Bracht in Holland to pick up supplies the LAD guys travelling in our own vehicles to do any repairs. Once back at Mulheim the vehicles were split into platoons to distribute the supplies to almost anywhere in the British Sector and we followed as tail-end-charlie's.
The duty recovery roster was great in the fact that one could always get a duty supper in the cook house and also at weekends to earn a few bob when the NCO's were on duty and wanted someone to cover for them (there was never a shortage of volunteers).
Our CQMS was Q Hartley who's passion was racing pigeons so whenever driver training was going on he could be sure of some training for them. Our route was Essen, Dortmund, Solingen to the Mohne Dam release the birds and then return home.
Another highlight was 6 weeks in Berlin at Spandau Barracks the only downside was entering and leaving the Russian Zone when the Russians reckoned they couldn't tally the figures for how many were going through their sector (bear in mind the vehicles were all loaded with squaddies). This was regiment that had been picked up at Bielefeld.
All in all a couple of great years with a fantastic bunch of guys, a few spring to mind Johnny Devereaux, Bill (scouse) Gadsby, Don Brockley,Mick Henstridge, Colin Pratt, and Keith Gundry and Dave (But F**k) Stanley who were at LAD 113 Coy.
senojyddet
Sgt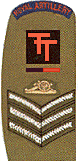 Number of posts

: 25


Age

: 88


Localisation

: Lancaster


Cap Badge

: REME


Places Served

: Aug. 53 1 Ptn B coy 1 Trg Bt. Blandford. Oct 53. 9 Trade Trg Bt. Gt. Malvern. Jan 1954.13 Armd Wksp REME, Station Wksp Derna Libya, March 1957. 113 Coy RASC LAD REME, Jan 1960.Singapore Dist. Wksps, 221 BVD Wksp Johore Bahru Malaya, 40 Base Wksps REME Singapore. Mar. 1963 22 Lt. AD Regt Wksps REME at Gutersloh, Hubbelrath & Singapore.


Registration date :

2018-02-07

Subject: Re: Reme LAD 114 Coy RASC 7/2/2018, 10:48

---

Den Roberts wrote:

Are there any ex- REME members who served at the LAD 114 Coy RASC Mulheim. I was there from April 1959 till November 1960

I was in 113 Coy LAD - John Hartley was the AQMS when I left, a great guy!!!!! - from March 1957 to Dec. 1959. I was Sgt i/c 1098 Stores. Some years have passed so you may not get this message.
JPW
Let Gen







Number of posts

: 1119


Age

: 81


Localisation

: Berkshire


Cap Badge

: REME


Places Served

: Rotenburg Ploen Lippstadt Hamm Wetter Minden Munster Bielefeldt Dusseldorf


Registration date :

2008-11-09

Subject: Re: Reme LAD 114 Coy RASC 13/2/2018, 09:07

---

Senojyddet

Welcome, keep these postings coming

There is still a chance that some of the names you mention might still drop byi
Sponsored content
Subject: Re: Reme LAD 114 Coy RASC

---