KrisT
Sgt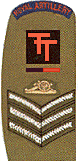 Number of posts

: 37


Age

: 86


Localisation

: Meanwood, Leeds


Cap Badge

: Jimmy


Places Served

: Catterick;Newton Abbot;Bunde;Minden; Chester; Nicosia


Registration date :

2017-09-17

Subject: My brother 25/10/2017, 22:36

---

I last saw or heard of my step-brother, Ronald Christie, when his mother passed away in December 1972. She had no contact with him in several years, didn't even know his whereabouts. I knew he was in the RASC, and thought he should know his mum was dying of cancer So I started enquiries by writing (but here memory fails me again,dammit! I dont recall where I wrote!) Anyway, after including what little particulars I knew, I received a reply. I had described him as a sergeant who was last known to have served with SHAPE in Paris, 1953. A real long shot!

The reply said he was now an officer, rank Lt/Col, and my enquiry had been passed on for his attention. I was astounded, especially when he phoned the number I had given and said he was coming to see me. He duly arrived, we greeted each other and went to the hospital to visit his mum, who said not a word but gave a huge smile as he hugged her. I left them alone for a while, then drove him to his hotel. During the night he phoned me to say she had died. I like to think she had seen her boy again and died happy.

I don't recall where he was stationed at the time, but remember him saying he was in officers quarters in Cyprus at much the same time as me. Famagusta, I think he said. I wonder if anyone reading this knew him? He had risen through the ranks from enlisting as a boy soldier. His wife was a lovely French lady.

I realise this is another long shot, as I havent seen him since 1972.