JGW
Sgt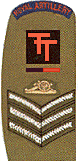 Number of posts

: 35


Localisation

: Melksham, Wiltshire


Cap Badge

: REME


Places Served

: AAS Arborfield, 5 Inf Wksps then 14 Regt. RA Dortmund, 1 Inf Wksps Aden, 22 Sigs Lippstadt, REBCS then 65CSS RE Hameln, Borden, 15/19 H then 9/12 Lancers Tidworth, 4 ADSR, Herford, QoH then 4/7 DGuards Detmold.


Registration date :

2019-03-28

Subject: various Rememberance shows in UK 25/6/2019, 14:19

---

Over last weekend I was trading at the 'Weekend to Remember' in Cross Keys, South Wales.  Lovely show.  Organised by a retired R. Sigs. Lt Col - Tim Spurge, and in aid of the S. Wales British Legion Band which he runs.
Just as the punters started to come in on Sunday the heavens opened as it only can in Wales! After all, it has had lots of practice as we all know!  
I just tried to stay a bit dry - as did all the other traders - with not a punter in site.  As the saying goes - I've seen more life on an old Army blanket.
However, I got to thinking (sometimes I do that 'cos I'm a rebel) of how many people who use this website might be there in some capacity, without us knowing each other.

I'm doing the Wiltshire Armed Forces Weekend in Trowbridge park this coming weekend.  
Apparently my pitch is opposite the crazy golf, but I won't know exactly where until Friday evening.  But it can only be within a 100 yard stretch.
If you happen to be there, please come and say hello.  My canopy (3m x3m) is 'kermit' green (bloody awful colour!) and the plan is to sell plants on Saturday (my better half and I sell self grown plants at charity plant fairs, but we have no more plant fairs and plants left over - its NOT 'yogurt-pot gardening' by a long way!) and on Sunday I will have wooden carvings.  
I may be dressed as a Chelsea Pensioner - (how that came about is another, rather long story) - if its not too hot.