Paul
Maj Gen








Number of posts

: 817


Age

: 70


Localisation

: Limavady, N.I.


Cap Badge

: R.E.M.E.


Places Served

: Arborfield (Basic training), S.E.M.E. Bordon (Trade training), Barnard Castle, Hemer, Belfast (Emergency Tour), Londonderry, Munster, Brunei, Hong Kong


Registration date :

2008-04-06

Subject: Royal Auxiliary Air force 31/1/2009, 13:32

---

This part of the RAF is often forgotten about, but played an important part both during and after the war, that is until various governments kicked the

out of both it and other auxiliary forces.

I have just found a reference to R.Aux.A.F. squadrons and RAF Sylt. I am just waiting for permission to use it as a link as it does seem to be copyright.

Any former members of the Auxiliary Forces out there with stories to tell??

Paul.
brian beckett
SSgt/CSgt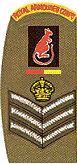 Number of posts

: 55


Age

: 84


Cap Badge

: rasc


Places Served

: Tower of London(initially in Royal Fusiliers) Aldershot, Sennelager & RAF Bruggen


Registration date :

2009-02-04

Subject: Re: Royal Auxiliary Air force 22/7/2009, 14:08

---

Paul,
I was in the RAFVR. I joined the County of London Security Sqdn
based at Adam & Eve Mews, Kensington High Street, London.W8,
at the beginning of 1962. My trade designation was RAF Police.
Although far removed from the 'snowdrops' seen around bases I did have the full uniform. The work was counter intelligence and the RAF's involvement. In the event of a crisis we could have been sent anywhere but Aden was often cited in exercises. The annual camps I attended were spent at Geilenkirchen in Germany and Akrotiri in Cyprus. We also spent frequent weekends at various V bomber bases. The Treasury finally forced the RAF to disband the unit and so we were released in Feb 1964.
Brian