Fred Flintstone
LCpl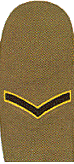 Number of posts

: 8


Registration date :

2007-03-08

Subject: Crocker Barracks 15/8/2007, 09:05

---
JT
Guest



Subject: Crocker 3/11/2007, 08:28

---

There's quite a bit missing from that history. The wife of my old RSM was a school teacher in Sennelager in the early 90's. She gave me a copy of a booklet which the kids recieved as part of a history lesson about Paderborn/Sennelager.

Crocker was towards the end of the war a form of SS/Hitler youth barracks and there was an engagement between several of the youth's and a couple of Shermans at the level crossing just outside the front gate of Crocker.

I'll try to locate the booklet (it's amongst all the rest of the stuff in the garage) and I'll post what it says.
recymech
WOII





Number of posts

: 81


Age

: 52


Localisation

: Bad Fallingbostel


Cap Badge

: REME


Places Served

: Bordon, Nuneaton, NI, Paderborn, Poland, Czech Republic, Sennelager, Osnabruck, Canada, Iraq, Afghanistan, Bosnia, Kosovo, Cyprus, Bad Fallingbostel.


Registration date :

2008-06-24

Subject: Re: Crocker Barracks 22/2/2009, 18:37

---

Lived on this camp for 3 weeks when I did my JMC with 3 Bn REME, very spooky place it was, shame its no longer there.
Sponsored content
Subject: Re: Crocker Barracks

---