Ian-redcap70
SSgt/CSgt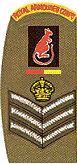 Number of posts

: 65


Age

: 92


Localisation

: Brisbane, OZ


Cap Badge

: RMP


Places Served

: Bielefeld, Colchester


Registration date :

2007-08-16

Subject: Bad Rothenfelde 12/12/2009, 06:32

---

Bad Rothenfelde-RMP HQ 1 Corps (BR) were located in the 'Oldenburger Kinderheim' until October 1953 when it was transferred to Block 8, Ripon Barracks, Bielefeld. The Kinderheim had been a boarding school for German kids bombed out of their houses during WW2. I used to drive regularly from there through beautiful countryside to Osnabruck, a garrison town.

There are some photos of the Kinderheim on my web site if anyone is interested.
ciphers
Maj Gen







Number of posts

: 978


Age

: 89


Localisation

: Abbotsford, British Columbia, Canada V2S 7C5


Cap Badge

: Royal Signals


Places Served

: Catterick (1951) - BAOR (1952 -1954)-(Herford - Bunde - Munster) - Japan (Kure) - Korea (Pusan - Seoul) - Cyprus (Nicosia) - Suez Op (1st Guards Brigade) - UK (63 Sigs Regt TA, Southampton)


Registration date :

2008-06-30

Subject: Re: Bad Rothenfelde 12/12/2009, 07:35

---

Hi Redcap .. was browsing your site and came upon a couple of the lads I knew ... Ernie Earley (Sgt), was a drinking buddy of mine in Munster 1952/4 met up with him again in Kure, Japan. And Arthur Knowlton, 6 Armd Div BAOR 1952/4 .... I notice that his twin brother David was not mentioned, I'm positive he was a Red Cap also, I remember running into them on exercise.


Red Cap

At dusty cross roads you see him stand,
directing traffic with white gloved hand,
often the recipient of ribald yells,
the target of snipers and falling shells,
the armband he wears denotes his rank,
the jeep is his transport, he'd scorn a tank.


When out of the line and in the rear,
the standard of excellence is very clear,
like a London Bobby patrolling his beat,
there are standards he feels that he must meet,
his boots are the brightest, his belt snowy white,
the cap badge is burnished, the set is just right,
his symbol of authority is plain to see,
his armband's emblazoned with two letters - MP


to Tom
Len Payne