Athlone Barracks, Sennelager on the edge of nowhere was a Brit build in the early post war era to meet a specific requirement for tanks and tracked vehicles (and heated hangars).  A hardened road route-in was constructed between the old B1 road and in to the Trg Area (Road is called Diebesweg !)
http://digitalarchive.mcmaster.ca/islandora/object/macrepo%3A87564
Paderborn 1:25,000 Map sheet for 1933!
Look NO Athlone planned N of Firing Range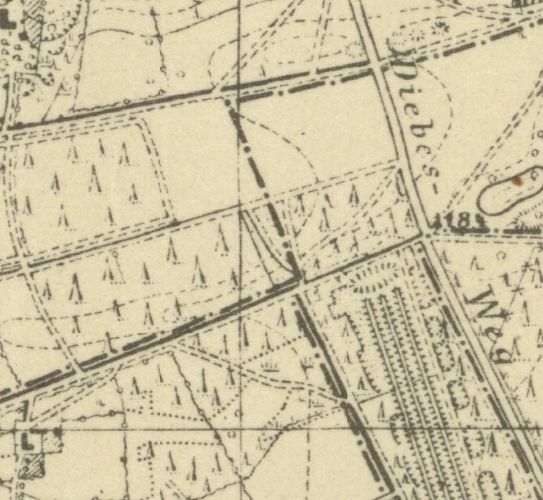 Timeline:    1952/54  Athlone Barracks completed (Refurb 2004) 2020 taken in to use as Training Fleet Barracks in the revitalised BFG  (Army Bus drivers collecting pax at RAF Guetersloh offered transports of delight to "Att Loney" Barracks  - needed a sign to work out the destination!   (Routewas Raf GT > to Mansergh Bks thence via GT Town to Normandy Sennelager > Athlone > Dempsey > Crocker > Alanbrooke > end station Barker Bks
https://www.army.mod.uk/deployments/germany/
See also (anticipating the next question):
Site and Athlone   Site Guard - Site Guard (on this site) 23/7/2019, 20:39 Reply :
Simply put the Forestry decides where plantations are to be placed in agreement with Range military managers.  Timelines:
1945  Diebesweg (N-S between Athlone and Ammo site) was a country lane between B1 Trunk Rd and Staumühle Lager meandering through the heath around a different range configuration.
1952/54  Athlone Barracks completed (Refurb 2004)
1963  First ammo compound inserted east of Paderbon Water Pumping station
1965  New compounds (2) completed and in-loaded 1 - 1,5 km East of Athlone.  Tree clearance at distances from compound to meet German (Bw) licence requirement, and timber beyond the periphery left until Forestry felling for crop sale.
1966  Southern Military Ring Rd inserted to service the ALMAs and keep TCV traffic out of Bad Lippspringe (NOT for tracks)
1969/71  Tank Washdown at Athlone (there are 3 on trg area) to wash down traffíc in to Athlone or being transported on to B1
Pre 1990 1:25,000 & !:50,000 map sheets had blocks of woodland inserted to cover sensitive installations (not so the Range Map) after this date satellite imagery was on the market that could not be censored to the same extent.