Stumac84
Private Number of posts

: 1


Registration date :

2022-05-02

Subject: Lippstadt Quarter Street Names 2/5/2022, 14:04

---

Hi there, I'm trying to find the names of as many married patch street names in Lippstadt. My Dad served there with 22 Sigs, I was about 4 or 5. And I'm trying to piece a jigsaw together and spark some memory in my Dad.
JGW
Sgt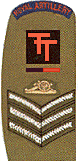 Number of posts

: 35


Localisation

: Melksham, Wiltshire


Cap Badge

: REME


Places Served

: AAS Arborfield, 5 Inf Wksps then 14 Regt. RA Dortmund, 1 Inf Wksps Aden, 22 Sigs Lippstadt, REBCS then 65CSS RE Hameln, Borden, 15/19 H then 9/12 Lancers Tidworth, 4 ADSR, Herford, QoH then 4/7 DGuards Detmold.


Registration date :

2019-03-28

Subject: Re: Lippstadt Quarter Street Names 15/5/2022, 05:41

---

Hi Sturmac, I was REME att to 22 Sigs '67 - '70. My first quarter was a house in Diesel Strasse (which was all quarters.), but latter we moved into a brand new flat (it was just one block of 6) in Ulman Strasse.
Some poor souls were even accommodated in caravans on a site on the camp (Sudstrasse).
Hope this helps.