cartav
Maj Gen







Number of posts

: 784


Age

: 90


Localisation

: s. yorks


Cap Badge

: RA (ns) RA, R.Sigs, RE ( TAVR)


Places Served

: Oswestry, Tonfanau, Woolwich, Osnabruck, MT School Bordon, Bulford, Manorbier, Hameln, R.Sigs Blandford, RSME Chattenden, Western Highlands.


Registration date :

2011-04-26

Subject: Re: national service 27/6/2011, 17:14

---

NATIONAL SERVICE, LADS ! Sorry to interrupt ! ( Dodges boot thrown across barrack room)

As it was in the beginning..........

Way back in the 1950's (No yawns, please), MOD was put to considerable expense when old King George popped his clogs & Liz II ( Liz I up north ) succeeded to the throne. The reason? Since the turn of the century there'd been a king in charge, a king's crown was atop the badges of all regiments entitled to display one. The Queen's crown is different, it has a concave top, not a rounded, convex one, soldiers would have to be respectfully kitted out.

Up to this time, before Mr. Staybrite nearly bankrupted Mr, Brasso by getting the contract for all the shiny bits of regalia, the time a recruit, or anyone with a new badge, spent on the brass bit for his beret was only exceeded by the hours devoted to boots. Firstly, one had to find a piece of cardboard, then pour Brasso, or Bluebell as the Army called it, upon flat surface. New badge was then rubbed vigorously in said Brasso (or Bluebell) until, within two or three months, all rough edges were worn down. The daily routine was finished off with the provided brush & self provided yellow duster.

If the rubbing process was carried out long enough, and diligently enough, a brass badge could be worn down so that all detail and regt. motto was erased. In the days when NS soldiers were preoccupied with demob calendars and how much service they had behind them, these flattened badges were highly prized. They marked a man out as a"sweat", one with months of service behind him. There was no need to greet a flat-badged newcomer with the usual "How long have you got to do?" or check his Army No. to establish precedence in a hierarchy in which those at the top were those next for demob., those who would invariably answer "I haven't got long enough to do" if reminded of some impending irksome duty. The biggest put-down for a fresh faced newcomer was a sniggered "Get some in! " (service, that is, not the next drink, for NS men had little spare change).

Accordingly, when new badges with the Queen' s crown were issued one-for-one by the QM, the Sweats were miffed, the newcomers were equals in terms of that piece of kit. It would be sometime before an old soldier's cap badge would gleam & glisten again in the sun on morning parade, the inspecting officer would not be dazzled enough to miss a stubbly chin.
ciphers
Maj Gen






Number of posts

: 975


Age

: 87


Localisation

: Abbotsford, British Columbia, Canada V2S 7C5


Cap Badge

: Royal Signals


Places Served

: Catterick (1951) - BAOR (1952 -1954)-(Herford - Bunde - Munster) - Japan (Kure) - Korea (Pusan - Seoul) - Cyprus (Nicosia) - Suez Op (1st Guards Brigade) - UK (63 Sigs Regt TA, Southampton)


Registration date :

2008-06-30

Subject: Re: national service 27/6/2011, 17:53

---

"old sweat' badge .. pictured below is a tankard my wife had made for me ... it shows the Jimmy I wore during my service, suitably worn down. The Kings Crown is missing because the jeweller lost it. I wore the KC throughout my regular time in and it wasn't until I was recalled for Suez that I switched to the QC. All those parades and guard mounts with eagle eyed RSM's and SSM's and nary one of the buggers spotted it.

Len (Ciphers)
Guest
Guest



Subject: Re: national service 27/6/2011, 18:42

---

Len...on close inspection of that pic,it appears you have rubbed out "jimmy`s" manhood.
brian beckett
SSgt/CSgt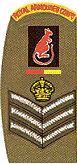 Number of posts

: 50


Age

: 81


Cap Badge

: rasc


Places Served

: Tower of London(initially in Royal Fusiliers) Aldershot, Sennelager & RAF Bruggen


Registration date :

2009-02-04

Subject: Re: national service 27/6/2011, 23:54

---

Quote from an ex regular in the RAF on a completely unrelated site.

'I arrived at RAF Leeming in 1960. The National Service lads were just beginning to tale off, they were a great bunch of guys, not a care in the world most of them. I think the morale of the station in general sunk down lower as these fun people left'
ciphers
Maj Gen






Number of posts

: 975


Age

: 87


Localisation

: Abbotsford, British Columbia, Canada V2S 7C5


Cap Badge

: Royal Signals


Places Served

: Catterick (1951) - BAOR (1952 -1954)-(Herford - Bunde - Munster) - Japan (Kure) - Korea (Pusan - Seoul) - Cyprus (Nicosia) - Suez Op (1st Guards Brigade) - UK (63 Sigs Regt TA, Southampton)


Registration date :

2008-06-30

Subject: Re: national service 28/6/2011, 00:49

---

Gordon .. just like mine ....

Len (Ciphers)
Guest
Guest



Subject: Re: national service 28/6/2011, 06:53

---
Sponsored content
Subject: Re: national service

---