dagian
Sgt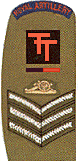 Number of posts

: 35


Age

: 70


Localisation

: Germany


Cap Badge

: RA


Places Served

: UK (Nuneaton/Barnard Castle/Larkhill/Bulford), Germany (Gutersloh/Lubbecke).Then worked as Civvy for Army.


Registration date :

2011-06-18

Subject: Bielefeld - Other Barracks 18/6/2011, 18:11

---

There seems to be no mention of other Barracks in Bielefeld.
Reeth Barracks - was a Civilian Warehouse (near the Autobahn) bought from Karstadt and used by Accommodations Services and Freight Services until it was sold on in 2000.
Redcar Barracks - sited at Friedrich Hagemann Strasse. It was originally used by Barrack Services RAOC and also a Solid Fuel Depot (in the days when Coal & Coke were necessary). It was a 2nd world war Panzer Workshop. After the formation of 6 Ord Bn in Richmond Barracks, 64 Veh Coy were moved there from Recklinghausen. The Sports Field opposite was handed over to the German Authorities and is now the Training Centre for Arminia Bielefeld.
BobG
Lt Col






Number of posts

: 330


Age

: 81


Localisation

: Northumberland


Cap Badge

: REME


Places Served

: Rotenburg, Verden, Liebenau, Hohne, Hamm, Duisburg, Minden, Hannover, Fallingbostal, Kuwait, UK, HK, USA/Can.


Registration date :

2008-02-27

Subject: Re: Bielefeld - Other Barracks 18/6/2011, 18:28

---

look up Bielefeld in the 'Locations within BAOR and NW Europe' loads of info on all the Bielefeld Bks.
Bob
Pborn4
Lt Col





Number of posts

: 318


Localisation

: Between Hannover and Herford, off all main routes


Cap Badge

: Not even a reservist now - have been Pborn3


Places Served

: Oswestry 1965, Paderborn to 1971, NE Dist, Munsterlager from 1974, Sennelager (1976 to 2012)


Registration date :

2016-12-16

Subject: Re: Bielefeld - Other Barracks 22/7/2018, 19:27

---

and before you go:

A touring exhibition "British in Westfalen" will be at these venues:

From

26 Aug 18 Mindener Stadt Museum

28 Oct 18 City Archives Hamm

13 Jan 19 Ermschertal Museum Herne

17 Mar 19 Historisches Museum Bielefeld

19 May 19 Städtisches Museum Herford

21 Jul 19 Kreismuseum Wewelsburg (nr Paderborn)

The virtual tour and highlights of the original Paderborn exhibition are on-line here:

www.paderborner-konversion.de/briten-westfalen/virtueller-rundgang
Sponsored content
Subject: Re: Bielefeld - Other Barracks

---