unclevanya
Maj






Number of posts

: 230


Age

: 76


Localisation

: Essex UK


Cap Badge

: R Sigs


Places Served

: 11 Sigs Vimy 'C' Catterick Nov 1963), 224 (Radio) Sig Squadron Garrats Hey, Quorn Leics( Jan-June 1964), 16 Sigs Bradbury Barracks Krefeld July-Oct 1964), 28 (BR) Sigs St Tonis & 4 Squadron, Tongeren (Cafe Maddy) (1964-1968), HQ UNFICYP Nicosia 6 month tour (1966), HMS Jufair & Hamala Camp Bahrien, 223 Sig Sqn (Radio) Winchester, Norn Ireland, HQ Northag Kolsas Olso Norway, 11 Sigs Helles Lines Catterick, Civvy Street 1977, Retired (Grumpy Victor Meldrew 2012)


Registration date :

2012-07-15

Subject: Assination of JFK in 1963 - Can You Remember? 1/9/2016, 11:06

---

This may have been done already - so appoligies. Does anyone remember where they were, and what they were doing way back in November 1963 when JFK was shot on November 22nd 1963?

I had 'signed on' on the 5th of November 1963, and was in my 3rd week of Basic (Phase One) at Vimy Lines (Vimy C), Catterick Garrison. I was relaxing in the NAAFI as you do when the news came through on the BBC TV news. Of course this did not impact on us squaddies. However the next day, on first works parade we were lined up and told what would be happening.

The usual 10 or 12 week Basic training was shortened to 6 or 7 weeks, and then after pass out pa

rade, we all recived our orders to report to various Phase Two (Trade training). I was sent to Garrats hey for Spec Op training, but had to remuster after a few weeks as i had a problem with the Morse speeds.

I was sent out to Germany (BAOR) at 16 Sigs, Brabury Barracks for my B3 Comcen Op course. Of course in the days and weeks after the JFK assinantion, the Yanks, NATO and UK forces were on high alert 9Defcon 30 so i beleive. it was all a troubling time, but so far off in time now.

Can anyone here still around who served in those far of days still recall what they were doing?
csqnblackhat
Sgt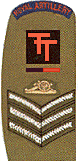 Number of posts

: 39


Age

: 75


Localisation

: Carlisle


Cap Badge

: R.E.M.E.


Places Served

: Hohne, 11th Hussars, Munsterlager, 4 Fd Regt R.A. Warminster, School of Infantry Demo Squadron, 2RTR and 13/18 Hussars.


Registration date :

2011-09-11

Subject: Re: Assination of JFK in 1963 - Can You Remember? 2/9/2016, 17:34

---

I was an Apprentice at AAS Carlisle at that time, and myself and a mate were wandering over the square on our way to the NAAFI for an early evening cuppa when someone came up to us and informed us what had happened.
Hardrations
Let Gen






Number of posts

: 1057


Localisation

: Winnipeg Manitoba Canada


Cap Badge

: RC Sigs (RTG Op) / CF Logistics (Cook)


Places Served

: Germany, Egypt, Cyprus, CFS Alert and some other strange places


Registration date :

2007-12-16

Subject: Re: Assination of JFK in 1963 - Can You Remember? 3/9/2016, 10:31

---

Siting out on the lone prairie at check point G (Gulf) doing comms for the Met. Troop from the School of Artillery who were doing Met. observation/trials that were for drones. Yes in 1963 the drone was on the planning board for some one. When they sent word out to us that Kennedy was shot, the dough head met. types wouldn't believe me. So bet a case of beer. Didn't have the balls to pay me. Next day I tell them that the shooter is killed, this time they believed me. Obviously thought that RC Sigs , RTG Ops had nothing to do but make up false traffic.
John Grant
Private Number of posts

: 1


Registration date :

2009-09-07

Subject: Re: Assination of JFK in 1963 - Can You Remember? 24/11/2021, 04:20

---

Chief Projectionist at Globe Cinema Hohne. Manager called up to Projection box and I had to run down to front office and collect a slide he had just typed. He had received a phone call from someone on Base. He told me Kennedy had been shot and killed. I put slide up about 9.30 pm, it overlaid on movie currently screening. It had the desired effect - the Code word on the slide caused over half of the audience to leave and to report to duty at once.

alan8376 and Pborn4 like this post
recce83
Maj






Number of posts

: 229


Age

: 82


Localisation

: Peachland British Columbia, Canada


Cap Badge

: Black Watch of Canada


Places Served

: 4 CIBG Soest and Werl 1957-1965, Camp Borden, Camp Gagetown


Registration date :

2009-06-04

Subject: Re: Assination of JFK in 1963 - Can You Remember? 26/11/2021, 19:51

---

I was sitting in the WVS lounge in Fort St. Louis around 1930, idly playing records when one of the lads came in to say "have you heard?" Since I didn't have the radio on, no, I hadn't heard and it made me sit up and take notice. (This would have been around 1430 in Washington D.C.; not long after the shooting.)
Sponsored content
Subject: Re: Assination of JFK in 1963 - Can You Remember?

---