Paula
Private Number of posts

: 4


Localisation

: Manchester


Registration date :

2022-02-17

Subject: Location barracks 17/2/2022, 19:46

---
AlienFTM
SSgt/CSgt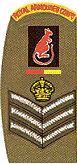 Number of posts

: 53


Age

: 67


Localisation

: Hampshire


Cap Badge

: 15th/19th The King's Royal Hussars


Places Served

: NI, Tidworth, UNFICYP, BAOR, Worthy Down


Registration date :

2007-12-07

Subject: Re: Location barracks 18/2/2022, 07:45

---

BAOR was the British Army of the Rhine in West Germany, where most of the Army spent most of the Cold War between the end of the Second World War in 1945 and German reunification in 1990 after the fall of the Berlin Wall.

When there were still garrisons in further flung hot sandy places, it was normal to relocate whole regiments by troopship, giving troops a chance to acclimatise. I'm guessing this is what is meant in your document by Staging.

Hope this helps.
Paula
Private Number of posts

: 4


Localisation

: Manchester


Registration date :

2022-02-17

Subject: Re: Location barracks 19/2/2022, 16:19

---

Thank you it's helps a little bit.x
Pborn4
Brig






Number of posts

: 557


Localisation

: Between Hannover and Herford, off all main routes


Cap Badge

: Not even a reservist now - have been Pborn3


Places Served

: Oswestry 1965, Paderborn to 1971, NE Dist, Munsterlager from 1974, Sennelager (1976 to 2012)


Registration date :

2016-12-16

Subject: Re: Location barracks 19/2/2022, 19:38

---

Hallo Paula,
You seem to have gotten hold a of an abbreviated Record of Service from a Record Office (Infantry Manning and Records?):

Staging - over 1 year and 289 days seems a long time to be in transit, BUT The entries in this block (23) seem abridged - a summary, Starting with Serial 1, to 5, to 9, 15  because normally Part 2 Orders publishing these occurrences show starts and stops  (ie dep Uk on date, arrived new theatre on date, SOS (Struck of strength) Unit A, TOS (Taken on strength unit B))
In the period  shown as "Staging" a number of things happened: Soldier departed BAOR and arrived somewhere (UK) then the unit he was in became The King's Regiment (Manchester and Liverpool)  on 1 September 1958.at Brentwood, as 1st Battalion, The King's Regiment (Manchester and Liverpool).Queen's and Regimental colours were presented to the 1st Battalion by the 18th Earl of Derby on 28 November 1958 - ie still in England. 

1958 Within months, the regiment received notification that it would be stationed in Kenya, (which was emerging from the Mau Mau Uprising and nearing independence). 
so he would be taken on strength and there would be an itinerary of movements between  29 May 1957  to 13 Mar 1959

Arriving in Africa in 1959, 1 KINGS was accommodated in Gilgil, situated in the Rift Valley between Naivasha and Nakuru, until relocated to Muthaiga Camp, near Nairobi. 
Detached from the regiment at this time were elements of HQ Coy and two rifle companies ("A" and "D"), which became part of the Army's contribution to the Persian Gulf garrison in Bahrain for more than a year. 
Subordinated to 24 Infantry Brigade, which Britain maintained in Kenya as part of the Strategic Reserve, - 1 KINGS became liable for deployment to various locations in Africa and Asia.

This is borne out in the separate entries moving him away from and back to East Africa, and the final entries where 1 KINGS came back to UK.

Elsewhere on this sheet (an AF B 200?) there will be entries to show if he was awarded any medals, and a note of any disciplinary awards (including places)

A more precise record (without pulling all the PART 2 Orders) is to read his actual AF B 2672 (Record of Service (Soldier)) since which company he is in is not disclosed. or his AF B108 (Red Book issued on Discharge)

AlienFTM, alan8376 and Paula like this post
Paula
Private Number of posts

: 4


Localisation

: Manchester


Registration date :

2022-02-17

Subject: Re: Location barracks 19/2/2022, 20:59

---

Hi yes I did get hold of his service records from manning records in Glasgow. Don't know what has happened to my dads red book might of been lost has we moved around a lot. I'm guessing I wouldn't be able to get another red book? Also would I be able to get a different kind of service records but more detailed than the ones I already have.
Regards
Paula
Pborn4
Brig






Number of posts

: 557


Localisation

: Between Hannover and Herford, off all main routes


Cap Badge

: Not even a reservist now - have been Pborn3


Places Served

: Oswestry 1965, Paderborn to 1971, NE Dist, Munsterlager from 1974, Sennelager (1976 to 2012)


Registration date :

2016-12-16

Subject: Discharge documentation - regular soldiers 19/2/2022, 21:31

---

The Red Book is unique Records collected from his unit, entered some record of service details and issued it to him! (Way back when he left the service (1962) - it included a form of reference** from the last officer under whom he served)  The AF B 2672 would have been in his documents folder and may no longer exist - only Records can say -  the info I gathered from another source showing what was going on in his service life in East Africa /Kuwait is probably as close you will get with his service data,  The Kings have a Museum  in Liverpool and have some records at the National Army Museum in Chelsea, London - either place will contain experts who may be able help you.  

https://www.nam.ac.uk/explore/kings-regiment-liverpoolhttps://www.liverpoolmuseums.org.uk/kings-regiment/biographical-research

As an Infantry Man in National Service (1956) he likely did his basic training at Warminster - look at this projection from National Army Museum on National Service:  https://www.nam.ac.uk/explore/national-service-experience

and youtube:  Kings Regiment  

https://www.youtube.com/watch?v=R4J-_jzthQQhttp://www.kingsownmuseum.com/ko3011.htm

  (Deerbolt Camp was grim in the 1970s cannot imagine soldiering there 20 years earlier!)

http://www.kingsownmuseum.com/gallery4559kenyaaden03.htm

** Have since discovered the AF B200 (large double foolscap or modern DINA3 sized form) contains a handwritten copy of the Testimonial/Reference written in to the Red Book (AF B108)



Last edited by Pborn4 on 26/2/2022, 02:29; edited 2 times in total (Reason for editing : addendum)
Paula
Private Number of posts

: 4


Localisation

: Manchester


Registration date :

2022-02-17

Subject: Re: Location barracks 19/2/2022, 22:29

---

Thank you so much for your time and all the info and links you have sent me I appreciate it very much. I've got a lot to look at.
Regards
Paula
Sponsored content
Subject: Re: Location barracks

---