rucjock21
Maj





Number of posts

: 279


Localisation

: Glesga


Cap Badge

: The Jocks


Places Served

: Everywhere.


Registration date :

2012-09-25

Subject: Re: Would You Join the Army again? 2/7/2013, 20:46

---
cartav
Maj Gen







Number of posts

: 784


Age

: 91


Localisation

: s. yorks


Cap Badge

: RA (ns) RA, R.Sigs, RE ( TAVR)


Places Served

: Oswestry, Tonfanau, Woolwich, Osnabruck, MT School Bordon, Bulford, Manorbier, Hameln, R.Sigs Blandford, RSME Chattenden, Western Highlands.


Registration date :

2011-04-26

Subject: Re: Would You Join the Army again? 3/7/2013, 08:18

---

rucjock21 wrote:

Brace yourself cartnav!

Seem to have caused excitement in some areas !    I shall become like a duck in water !
steve1226
SSgt/CSgt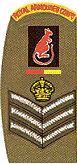 Number of posts

: 47


Age

: 74


Localisation

: Bristol, uk


Cap Badge

: REME


Places Served

: Osnabruck, Plymouth, Hemer, Menden. @ tours NI, 1969 and 1970


Registration date :

2008-11-18

Subject: Re: Would You Join the Army again? 6/7/2013, 17:31

---

I did 11 years in total. My "Mans" service started on my 17th birthday so I spent the first year of my service still at Army Apprentice College Carlisle. I left in 1973 when my option came up as I was being wasted at an OFP while being a 430 series specialist and hated working on "B" vehicles. Cushy posting though.
Would I join up now? Probably but I don't think I or many of my baby boomer contempories who joined up to get a trade would have passed the first week of the Americanised training and selection I see in the documentaries I see on TV. "Show me your war face indeed!"
I think that the army in BAOR in the 60's and 70's was a very different kettle of fish. Much more laid back and being REME attached absolutely devoid of any military training as we were far too busy trying to keep everything going, normally by cannibalizing anything spare. We used to "hide" Chieftains with no innards or engines well away from prying eyes.
My son has just finished his 22 years and loved every minute of it so it can't be all that bad. He ended up a WO 1 in the logistics corps (Ammunition tech!!!).

I enjoyed my service career very much and would do it all again but next time make sure I did it all in Germany.
Sponsored content
Subject: Re: Would You Join the Army again?

---