scouse_g
Private Number of posts

: 1


Localisation

: gods country(Cheshire)


Cap Badge

: RCT


Places Served

: UK, BAOR, N.I. Canada,


Registration date :

2008-07-30

Subject: Portsmouth barracks ,Munster 30/7/2008, 20:29

---

Gentlemen ,
I have just found this site and am impressed to find so many units on here, I served in 27 Sqn, 8 Regt. RCT during the late 70,s and would like to register my unit in the roll of units serving in BAOR.
I have been onto 604 Sig sqn and am amazed at what has happened to the barracks I have couple of photos of the barracks and will try to upload them, they(604) have a photo of 27 Sqn accom block when I was there the cellars were used as Sqn stores, the ground floor was the Sqn and Tp offices ,also the end near the road was used as the Sqn bar and a small disco with the 1st and 2nd floors being the troop accom, the transit accom also being on the 2nd floor. I hope this is of use to you and any further info I can give you please get in touch.
All The Bessst

JOKERS!!!!!
Paul
Maj Gen







Number of posts

: 817


Age

: 68


Localisation

: Limavady, N.I.


Cap Badge

: R.E.M.E.


Places Served

: Arborfield (Basic training), S.E.M.E. Bordon (Trade training), Barnard Castle, Hemer, Belfast (Emergency Tour), Londonderry, Munster, Brunei, Hong Kong


Registration date :

2008-04-06

Subject: Portsmouth Barracks 31/7/2008, 12:00

---

scouse_g

If you have dates, units, locations, etc. they will be most welcome.

Have you had a look at the Portsmouth page yet?

http://baor-locations.com/PortsmouthBarracks.aspx

It is through people posting details and/or suggestions that is allowing the main site to build. If you have any contacts who could help, that would also be welcome.

Paul.
Niner Zulu
Sgt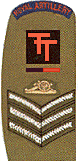 Number of posts

: 26


Localisation

: Scotland


Cap Badge

: RASC / RCT / AAC / RAOC / RLC


Places Served

: UK / NI, BAOR, South Arabia, Singapore +


Registration date :

2009-03-30

Subject: Re: Portsmouth barracks ,Munster 30/3/2009, 17:03

---

I was in Portsmouth Bks and accomodated in 8 Regt RCT Sgts Mess, between 1981 and 1984.
The two RSMs while I was there where WO1 (RSM) Nobby Clark and WO1 (RSM) Dave Jurgens.
I am still in contact with some of the friends I made in those days.
In fact one of them is visiting me this coming weekend.
Looking forward to a good thrash !
Sponsored content
Subject: Re: Portsmouth barracks ,Munster

---