PACavanagh
Private Number of posts

: 1


Registration date :

2021-07-05

Subject: Brad 5/7/2021, 18:29

---

Hi Paul
In reference to the photos of Keith Bradbury with a bridge behind .
This Bridge is definitely the BLOMBACHTALBRÜCKE in Germany.

With kind regards 
Monika
brian beckett
SSgt/CSgt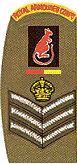 Number of posts

: 55


Age

: 84


Cap Badge

: rasc


Places Served

: Tower of London(initially in Royal Fusiliers) Aldershot, Sennelager & RAF Bruggen


Registration date :

2009-02-04

Subject: Re: Six Months Extra 17/5/2022, 15:01

---

jerry wrote:

This is part of the site that Barney indicated

Some of the last Groups of National Servicemen served in 36 Regiment
at Duisburg. The very last one's did not depart until 1962/63. Their
service was extended not long before demob by 6 months to 2 years
and six months by means of a Government announcement. I think
recruitment of regulars had not met expectations.

I was a regular Cpl and so the announcement did not cause me as
much anguish as those lads who were counting the days. One batch
was at Dusseldorf Airport waiting to go home when the announcement
was made. It was said that they had been running down the runway
with their arms extended, under the influence of a good few beers,
in a vain attempt to take off.

One or two were in tears in Glamorgan Barracks and we sympathised
with them. Quite quickly they settled down again and did their extra
time. I cannot imagine how a similar group of young blokes would
react today in similar circumstances.

National servicemen liable for the extra six months were notified at least 2 months before their scheduled demob date.

Could anyone really believe those antics described to have taken place at Dusseldorf Airport actually happened, I wonder who the clown was that spread that story.