Paul
Maj Gen







Number of posts

: 817


Age

: 68


Localisation

: Limavady, N.I.


Cap Badge

: R.E.M.E.


Places Served

: Arborfield (Basic training), S.E.M.E. Bordon (Trade training), Barnard Castle, Hemer, Belfast (Emergency Tour), Londonderry, Munster, Brunei, Hong Kong


Registration date :

2008-04-06

Subject: 2 Div Tpt Regt 10/1/2010, 20:07

---

2 Div Tpt Regt became 2 ADTR in 1976 I believe on the re-roling of 2 Div to Armoured.

When did it cease to be 2 ADTR, either by disbanding or renaming? 2 Armoured division moved to the UK in 1982 and was renamed 2 Inf Div, I believe, but 2 ADTR seems to have retained its title up to 1984, when I lose track of it! Did it become 1 ADTR?

Anyone any clues please?

Paul.
dagian
Sgt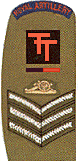 Number of posts

: 35


Age

: 70


Localisation

: Germany


Cap Badge

: RA


Places Served

: UK (Nuneaton/Barnard Castle/Larkhill/Bulford), Germany (Gutersloh/Lubbecke).Then worked as Civvy for Army.


Registration date :

2011-06-18

Subject: Re: 2 Div Tpt Regt 23/6/2011, 15:40

---